On behalf of your City Government, I want to extend our warmest greetings to the new residents and business owners or operators who have made a commitment to invest in our city. You are joining a diverse family of people who live or work in Pleasantville and enjoy a list of benefits found exclusively in our community.
Please visit my page for more on my vision for our community.
Sincerely,
Mayor Jesse L. Tweedle, Sr.
News
PUBLIC NOTICE:


RFP 2016 Professional Services
PUBLIC NOTICE:
Effective immediately, the Comcast Cable Channel 2 has been relocated to Channel 97.

HMFA Foreclosure Relief Programs
The Department of Community Affairs and New Jersey Housing and Mortgage Finance Agency recognize that many New Jersey families are currently going through or facing foreclosure. The State of New Jersey and the federal government provide a variety of programs to assist homeowners. Information about these programs is free. As a service to struggling homeowners in their community, Municipal Clerks have been asked to help facilitate the posting of informational links on their municipality's website. About Foreclosure, First Steps: www.nj.gov/dca/hmfa/foreclosure/about/
Tax Sale
The City of Pleasantville announces the sale of 2015 and prior year delinquent taxes and other municipal charges through an on-line auction. For a listing of all parcels, delinquencies and costs, please visit Pleasantville's Official Tax Lien Auction site.
**information can be viewed free of charge**
Plan Documents
City of Pleasantville Master Plan Reexamination
The Planning Board unanimously adopted the Pleasantville Master Plan Reexamination at a public meeting held on November 10, 2015. In addition, a new Recreation and Open Space Element and a Green Buildings and Sustainability Element were also adopted. Additional Elements of the Master Plan are being developed with the input and support of the Planning Board and the general public.

Master Plan Reevaluation 2015

Sustainability Plan
Atlantic County Multi-Jurisdictional Natural Hazard Mitigation Planning Project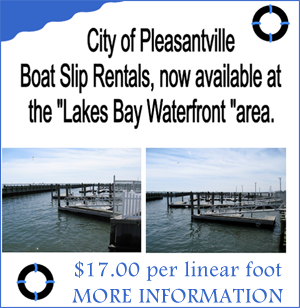 *Documents linked are in Adobe Acrobat (pdf) format. CLICK HERE for a copy of the free acrobat reader.
You can be the NJDOT's eyes and ears and help us keep our roads safe and clean.

Just click the grapic to go to the State's reporting system.
Connecting Our Community with Your Business
Pleasantville, NJ is a city united by strong community business relations and an aggressive redevelopment program. It is strategically located just 5 miles from downtown Atlantic City and is ready to meet the challenges of rapid economic growth. Pleasantville truly is a "City on the Move," featuring an active mix of retail, professional and light industrial businesses.
If you need further information about the opportunities available for you in our community, please contact...
Jacqueline Amado-Belton
Director, Economic & Industrial Development
Pleasantville City Hall
18 N. First St.
Pleasantville, NJ 08232
Phone: 609.677.4925
Fax: 609.677.4926
E-Mail: jamado_belton@pleasantvillenj.us

Please read the disclaimer regarding information on our web site.